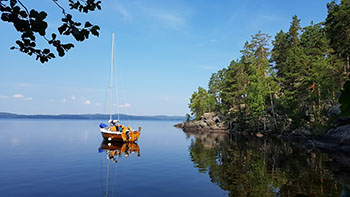 Dominik and his happy band of skippers

love to share their passion for sailing by organising hand-crafted sailing trips where you will actively learn new skills, meet open, internationally minded folks and it is a wonderful way to experience the beauty of the natural marine world! 
As part of their sailing trips, they invite guests to use our #mygreentrip bags to collect any garbage we see en-route that we dispose of responsibly when we are back to harbour. 
More about the trip "Midnight Sun" week:
Enjoy the stunning Norwegian fjords on a sailboat, a one way passage from Tromsø and finishing in Svolvær in the Lofoten. Sailing above the Arctic Circle, we can sail under the midnight sun!

Starting location: Eidvegen 666 – 9100 Kvaløysletta TROMSØ

7-14 June 2019

Check out full details on Naleia's website:

https://www.naleiayachting.com/sail-norway/
Read the interview of Dominik to know more about him and Naleia: Read the interview…
Make sure to claim your 5% discount exclusively for guests coming from #mygreentrip.

Book Naleia
Let's clean the planet together!
---
My Green Trip Local Partners
My Green Trip partners with local organisations in the world because we believe it is with their help and local presence that we, as travelers, can have a concrete and bigger impact. Our local partners are on the ground, they know the reality of the local trash system and they can really contribute to sort and recycle trash when it is possible. Each of our partner has its own way of partnering with My Green Trip. Some of them include clean-ups in their day to day activities, other distribute our clean-up kits, other plan regular clean-ups. It is up to them. Best is to contact them to know if they plan anything when you will be around. 
We also invite our travelers to directly book our partners from our website. There is 0% commission from My Green Trip. Our goal is not to be another intermediate between you and local tourism organisations. Our goal is to engage the most of travelers and tourism organisations to pick up trash left behind in nature, together. 
The My Green Trip team