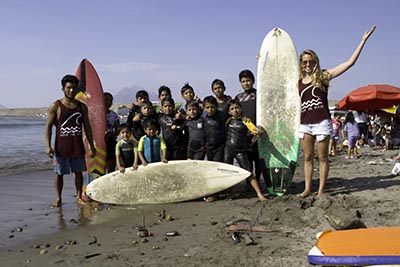 Share the Wave

is a non-profit organization based in Huanchaco, focusing on the continuity of the local culture of surfing, the promotion of social and gender equality, especially among young, and the protection of nature. Meet Roxane, one of the founder.
"Share The Wave Association is a non-profit organization that was born from a Swiss-Peruvian collaboration: we (the co-founders, Mateo and Roxane) are from Peru and Switzerland, respectively. We live by, with, and for the ocean. We believe that we can all leave places better than how we first found them and that this applies to close to everything in life, including environmental contamination.
As part of the solution to the international trash issue, we are very enthusiastic about sustainable and plastic-free living and the fact that there are tremendous simple and easy ways to directly and personally take action for a cleaner world. Oh and, last but not least, we love surfing and dogs!" Read the rest of the interview…
Let's clean the planet together!
---
My Green Trip Local Partners
My Green Trip partners with local organisations in the world because we believe it is with their help and local presence that we, as travelers, can have a concrete and bigger impact. Our local partners are on the ground, they know the reality of the local trash system and they can really contribute to sort and recycle trash when it is possible. Each of our partner has its own way of partnering with My Green Trip. Some of them include clean-ups in their day to day activities, other distribute our clean-up kits, other plan regular clean-ups. It is up to them. Best is to contact them to know if they plan anything when you will be around. 
We also invite our travelers to directly book our partners from our website. There is 0% commission from My Green Trip. Our goal is not to be another intermediate between you and local tourism organisations. Our goal is to engage the most of travelers and tourism organisations to pick up trash left behind in nature, together. 
The My Green Trip team