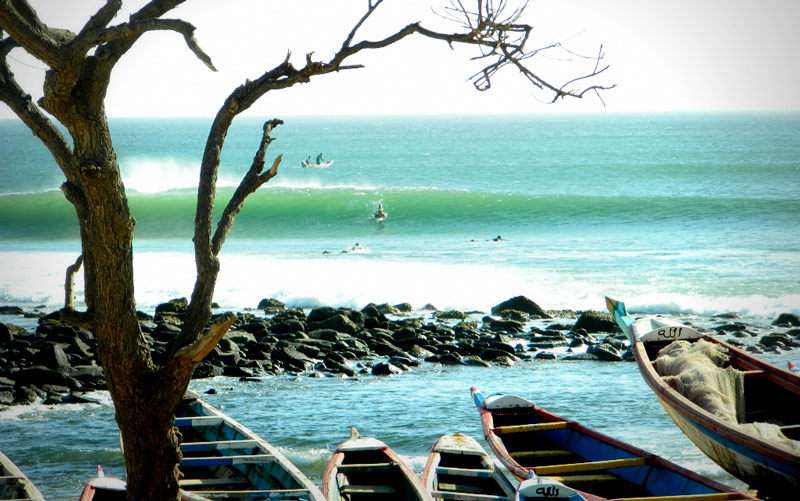 The

Malika Surf Camp

is located on the north coast of Dakar and offers accommodation, surf lessons, guides, boards and material renting. With their friendly staff you'll enjoy every day of your stay! Meet Marta, the founder.
"Hello everybody, my name is Marta and I'm the creator of the Malika Surf Camp. When I decided to create this surf camp I received the much needed help of some very good friends; somebody offered me a few wetsuits, somebody a board, somebody a leash or a rash vest. And so I started with 7 boards in 2010. Malika Surf Camp is a 100% local surfcamp, we don't have any main sponsors but you can now count around 90 boards in our shop on the beach front.
Personally, I believe that this is like a circle: if somebody gives me something, I have to give something to somebody else in return. The circle thus continues. So Malika Surf Camp supports local young surfers to live out their dream, same as my friends did with me. If I receive a board, I'll offer a board. That's it, simple. " Read the rest of the interview…
Let's clean the planet together!
---
My Green Trip Local Partners
My Green Trip partners with local organisations in the world because we believe it is with their help and local presence that we, as travelers, can have a concrete and bigger impact. Our local partners are on the ground, they know the reality of the local trash system and they can really contribute to sort and recycle trash when it is possible. Each of our partner has its own way of partnering with My Green Trip. Some of them include clean-ups in their day to day activities, other distribute our clean-up kits, other plan regular clean-ups. It is up to them. Best is to contact them to know if they plan anything when you will be around. 
We also invite our travelers to directly book our partners from our website. There is 0% commission from My Green Trip. Our goal is not to be another intermediate between you and local tourism organisations. Our goal is to engage the most of travelers and tourism organisations to pick up trash left behind in nature, together. 
The My Green Trip team