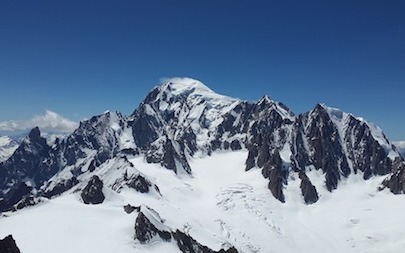 1786 Travel

is « Your memory maker in the Alps Mont Blanc ». Michelle and Damien will be your guides to tailor your week-end or vacation with various activities and excursions. They know the region like no one else. Meet Michelle and Damien.
"We are Michelle and Damien, a passionate, lively, energetic team. We are always looking to show our guests the most original parts of the Alps Mont Blanc. We are both athletes and epicureans, we combined our skills to make our guests experience in the Alps unforgettable. During our weekly sight-seeing days out of the office, we select confidential spots and authentic artisans. While in the office, we create our original tours in a spirited and inspiring atmosphere. We count on our selected specialized guides expertise, knowledge and smiles to make memories our guests will treasure.

1786.travel offers no other destination than the Alps, our area of expertise. Our wish is to present the depth and diversity of the region. As the area evolves, we pride ourselves on keeping up with changes to be able to provide you with the best experiences. Our sole destination: the Alps.  Our area of expertise: organizing trips, excursions and exciting experiences. " 
Let's clean the planet together!
---
My Green Trip Local Partners
My Green Trip partners with local organisations in the world because we believe it is with their help and local presence that we, as travelers, can have a concrete and bigger impact. Our local partners are on the ground, they know the reality of the local trash system and they can really contribute to sort and recycle trash when it is possible. Each of our partner has its own way of partnering with My Green Trip. Some of them include clean-ups in their day to day activities, other distribute our clean-up kits, other plan regular clean-ups. It is up to them. Best is to contact them to know if they plan anything when you will be around. 
We also invite our travelers to directly book our partners from our website. There is 0% commission from My Green Trip. Our goal is not to be another intermediate between you and local tourism organisations. Our goal is to engage the most of travelers and tourism organisations to pick up trash left behind in nature, together. 
The My Green Trip team