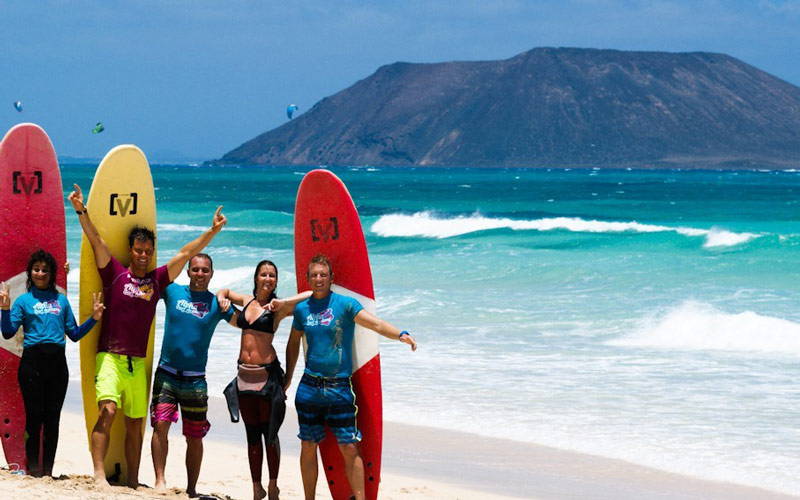 Aloha Surf Academy

organizes surf classes in Fuerteventura, Spain. After riding the waves they pick up trash on their way back home. The school is managed by Sophie, Alex and Maui (their lovely dog)
"We are a Swiss/German team who have chosen Fuerteventura to set up our family life and share moments with our students coming to surf in our little paradise. We believe in a brighter future and decided to go more green…we have reduced our plastic consumption, and have the project to have a house soon to do permaculture and be self sufficient with food 😉
We are located in the north of the island, in Corralejo. The surf course is a great activity to do with family members, or friends. It is lot of fun and moreover it connects you with the nature and gives you a lot of fresh energy. Our academy is for persons willing to learn surfing in a serious way; our instructor Alex is pedagogue and is glad to share all his knowledges with you. Come to try ; we will take you to stunning beaches and will make sure you have a lot of fun !!!" Read the rest of the interview.
Let's clean the planet together!
---
My Green Trip Local Partners
My Green Trip partners with local organisations in the world because we believe it is with their help and local presence that we, as travelers, can have a concrete and bigger impact. Our local partners are on the ground, they know the reality of the local trash system and they can really contribute to sort and recycle trash when it is possible. Each of our partner has its own way of partnering with My Green Trip. Some of them include clean-ups in their day to day activities, other distribute our clean-up kits, other plan regular clean-ups. It is up to them. Best is to contact them to know if they plan anything when you will be around. 
We also invite our travelers to directly book our partners from our website. There is 0% commission from My Green Trip. Our goal is not to be another intermediate between you and local tourism organisations. Our goal is to engage the most of travelers and tourism organisations to pick up trash left behind in nature, together. 
The My Green Trip team