23 Nov

Let's introduce Däni & Pierre, our green ambassadors

Meet Däni & Pierre who are traveling in Asia to fight for plastic and trash !! Follow their news on My Green Blog 🙂

Hello fellow travelers,

It is an exciting opportunity we have, being able to Blog with you here on MyGreenTrip.com!

We are Däni and Pierre. When we are not traveling to paradise destinations, we both live in the Zurich region in Switzerland. I (Däni) am a nurse and Pierre works as a Bartender. Even though we like our jobs, we prefer to be out in nature. Together we spend a lot of free time hiking up the high Swiss peaks, and when we are not together, I enjoy doing Yoga in the forest while Pierre prefers to get high up in the sky with his Paraglider. Another activity we enjoy doing together is Scuba diving. Whether with dry suits in Swiss lakes or in warmer waters when travelling. I am a speciality diver with over 30 dives and Pierre a freshly certified Openwater Instructor. Whatever activity we are doing we always try our best to take care of nature. Unfortunately, we realise that we often have to pick up trash from other people that they left behind in nature. It is a shame to see that so many people just don't seem to care.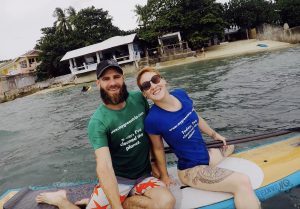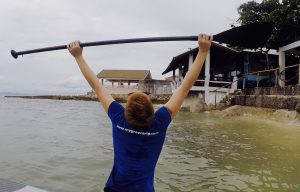 A long time ago, we decided to go on a Trip, a trip that matters. A trip that would be exciting for us, and at the same time using it as an opportunity to learn from other people and to help to make a change in the locations we visit. We take airplanes and other motorized transportation during our trip and therefore we want to give something back to mother earth for our carbon rejection, our Co² footprint.
So we decided we would participate in "clean ups", going to eco-friendly facilities and activities, and be extra careful with the waste we produce. We are also super curious to discover local solutions around trash disposal which have positive results. Whether this is done by travelers or by local hosts. We want to learn from others during our trip and we want to share our new knowledge with you through this Blog, our Facebook page and our Instagram account because we believe we can all benefit from it.
Our Trip takes us to the Philippines, Indonesia, and Australia in just under 4 months. We hope to meet many inspiring people and share their stories on this road-book blog with you. We will also tell you about local practices and positive actions we discover from local organizations. We give you tips on activities, food and the accommodations we discover.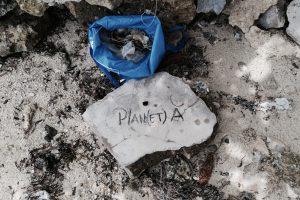 We also keep you posted on our location. Because if you are in the area and want to meet us for a chat, a hike, a dive or for drinks, feel free to contact us on our Facebook page onlyplaneta and Instagram page Plan.et.a.
We would be happy to meet with anyone and everyone! For fun content, live streams and quick updates, visit My Green Trip on Facebook and Instagram.
Talk to you soon !!!
Daniela & Pierre, live from Philippines 🙂
Links :
https://www.facebook.com/onlyplaneta
https://www.instagram.com/plan.et.a
Want to get published during your next green trip ? 
Contact us at iamagreentraveler@mygreentrip.com