01 Sep

My Green Trip cleans up at home along with 60 volunteers

Even though My Green Trip is active in all the corners of the World, we wanted to get 'back to the roots' and organized a clean-up in our home country – Switzerland.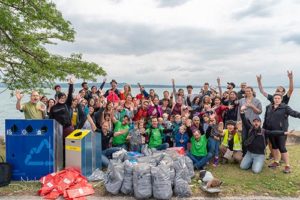 What a memorable week-end! Together with 60 volunteers – adults and many kids too – My Green Trip cleaned up a portion of the shores of the Neuchâtel lake and collected more than 15 big bags full of trash along only 300 meters of coast! Not only was the impact immediately tangible and visible, but we also had great fun and tons of smiles in a fantastic atmosphere (the pictures below clearly show we're not making this up 🙂 ).
✅ 60 volunteers, including 45 adults and 15 children
✅ 15 big trash bags full of waste equivalent to 300 liters of trash removed from nature
✅ 100% of the collected trash was recycled
We also would like to give a special thank you

to Alexandre Le Thiec 
who helped us recycling the collected trash with his specialized infrastructure 
Trinomad
and to our photographer 
Nicolas De Nisco
for allowing us to share and relive this wonderful moment with you. Have a look below 🙂
We're looking forward to seeing you next time!
Let's we clean the planet together!
---