11 Nov

#ZeroWaste Travel Tips from Tiffany & Nicolas – Before you leave 3

This is the third of a series of 3 articles containing imaginative, simple and impactful zero waste travel tips by our Ambassadors.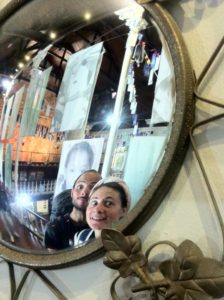 We are Nicolas and Tiffany, a French couple that decided in 2016 to quit our jobs and leave our sedentary lives behind. But we did not want to do the same with our eco-friendly lifestyle, as we had started a minimalistic and Zero Waste journey long before deciding on a worldwide one. Our Zero Waste journey started when Tiffany went to India and saw all the trash everywhere she realized that it isn't because in our western countries it's taken care of (out of sight out of mind eh?) that it doesn't exist and isn't a problem. When she came back she read Zero Waste Home by Bea Johnson, the woman who sort of started the whole Zero Waste lifestyle movement. Here is her website – also if you want to read her book, we thoroughly recommend it – but remember to buy it second hand !
So we became Waste-free Wanderers – and after 1.5 years of travelling, a few clean up sessions and some networking, we stumbled upon My Green Trip ! They kindly invited us to write a few articles about our adventure and how we prepared it so you too could see how to limit your waste output while on the road. Whether you are a Glamorous instaGirl, a Blog-free Backpacker or a Typical Tourist we promise that there are SIMPLE and EFFICIENT ways to reduce the amount of waste that will eventually end up in landfill, on a beach or… in a My Green Trip cleanup bag !
Before you leave 3 : prepare your gear in a minimalistic way.
Another important aspect to take into account when trying to be Zero Waste is minimalism. We have met lots of travelers with enormous bags full of stuff they never use !

Remember that you won't need the same stuff in South East Asia as in mountainous central Asia, and that if you hate cooking, there is no point buying a fancy stainless steel saucepan, you might as well just grab an old lunchbox from your Grandma's house or a plastic takeaway container from your own cupboard.
And if you are traveling long term and over more than one region we promise you can always find stuff on the way. You can :
– buy : i bought a polar fleece jumper for 0.50$ on a second hand clothing market in Iringa Tanzania,
– exchange/recuperate with/from other travelers : we got anything from foreign currency to guidebooks and even hair ties from people we met,
– find abandoned stuff in hostels : i found a really good tee-shirt in a dorm on an island in the middle of Bunyonyi lake in Uganda !

You can also lighten your load in a good way too – we donated our big coats in Mongolia to a family before crossing over into swelteringly hot China and gave our mozzie net to 2 backpackers heading up to East Africa when we were already in mosquito-free South Africa which is where we also sold our solar panel that we never used using the website Gumtree.

Then, only once you have thought very carefully of what you need should you get your bag – we have found that buying a big bag only encourages you to add stuff and make the load heavier. And traveling is so much nicer when you have 6 kilos on your back than when you have 12 !
Here is an article in English and here is a really good one in French about minimalistic travel. The only thing I would have to criticize about these two articles is that they don't encourage buying second hand / getting their gear together in a more sustainable way.